Answer ALS is excited to announce Danielle Boyce, DPA, MPH as the new Executive Director for Answer ALS Research, coupled with her roles as Executive Director for the Packard Center, and Assistant Professor of Neurology at Johns Hopkins. Danielle brings 20-years of experience as a researcher, patient advocate, public speaker and author.
"Danielle is a long-term and well-versed advocate for ALS patients and research," said Jeffrey Rothstein , M.D., Ph.D., Founder and Director of the Robert Packard Center. "Her background in data and project management along with her passionate drive for the advancement of research make her an ideal new member and leader for the Packard and Answer teams."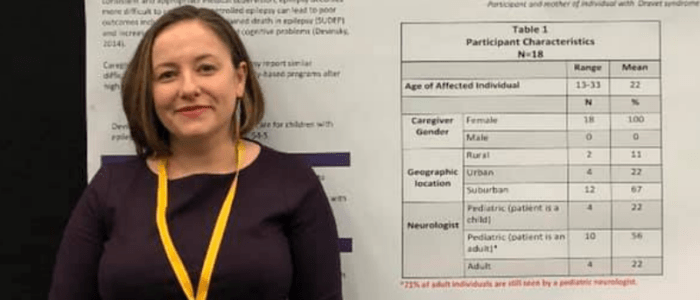 With a background in epidemiology and biostatistics, Danielle spent 15 years as a research data analyst and statistician at Johns Hopkins University. She thought her career path was set until her son, Charlie, was born with a rare form of epilepsy.
"I realized that my data science background could do things for advocacy and research to help to advance medical discoveries," said Boyce. "I went back to school to get my doctorate in public administration, which focused on organizational resilience and the role of the citizen, patient and caregiver in basic research."
Prompted to action, Danielle coordinated with the Food and Drug Administration, industry groups and the Patient-Centered Outcomes Research Institute (PCORI). Through these collaborations, she advocated for cross-cutting research that addressed the needs of patients.
While Danielle began her work with the epilepsy community, she has brought this passion to the ALS community when she began volunteering with Answer ALS and other ALS organizations in 2020. Through these endeavors, she has leveraged her academic and professional experience to navigate bureaucracy to help patients and researchers, as well as government and industry officials work together toward a common goal.
"Danielle is uniquely qualified for this critical leadership position and will be a great addition to the Packard and Answer ALS team," said Ed Rapp , ALS patient and advocate, as well as Chair of the Answer ALS Advisory Board. "She is committed to our journey to make a difference in what is a tough disease."
An emphasis for Boyce is knowing patients are interested in basic science, not just clinical trials. This is important because patients can support scientists in their research to address outcomes that matter to their community.