HOW IS ALS TREATED?
No cure has yet been found for ALS. The Answer ALS Research Project is committed to furthering the understanding of the disease and identifying therapeutic pathways.
The Food and Drug Administration (FDA) approved the first drug treatment for the disease, called Riluzole (Rilutek), in 1995. Riluzole is believed to reduce damage to motor neurons by decreasing the release of glutamate. Clinical trials with ALS patients showed that Riluzole prolongs survival by several months, mainly in those with difficulty swallowing. The drug could also extend the time before an individual needs ventilation support. Riluzole does not reverse the damage already done to motor neurons, and persons taking the drug must be monitored for liver damage and other possible side effects. However, this first disease-specific therapy offers hope that new medications or combinations of drugs may one day be used to slow the progression of ALS.
Radicava (brand name) or edaravone is a prescription medicine that was recently approved for the treatment of ALS by the FDA on May 5th, 2017. Radicava is the first ALS treatment to be approved in the United States in more than 20 years. Radicava has been shown to slow the loss of physical function in ALS patients by 33 percent compared to placebo.  Radicava is administered in 28-day cycles by intravenous infusion, a procedure that may be done at an ALS center, physician's office, free-standing infusion center or hospital outpatient department. Home infusion providers can also offer the treatment, depending on individual health insurance and physician oversight. Access to Radicava therapy is facilitated through Radicava Searchlight Support, which helps people who are prescribed the medication.
RELIEVING SYMPTOMS AND IMPROVING QUALITY OF LIFE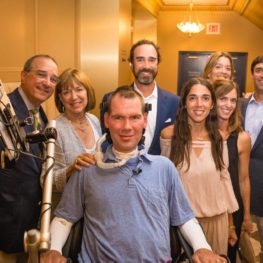 Other treatments for ALS are designed to relieve symptoms and improve the quality of life for individuals with the disorder. This supportive care is best provided by multidisciplinary teams of health care professionals such as physicians; pharmacists; physical, occupational, and speech therapists; nutritionists; and social workers and home care and hospice nurses. Working with patients and caregivers, these teams can design an individualized plan of medical and physical therapy and provide special equipment aimed at keeping patients as mobile and comfortable as possible.
MEDICATION
Physicians can prescribe medications to help reduce fatigue, ease muscle cramps, control spasticity, and reduce excess saliva and phlegm. Drugs also are available to help patients with pain, depression, sleep disturbances, and constipation. Pharmacists can give advice on the proper use of medications and monitor a patient's prescriptions to avoid risks of drug interactions.
PHYSICAL THERAPY AND EXERCISE
Physical therapy and special equipment can enhance an individual's independence and safety throughout the course of ALS. Gentle, low-impact aerobic exercise such as walking, swimming, and stationary bicycling can strengthen unaffected muscles, improve cardiovascular health, and help patients fight fatigue and depression. Range of motion and stretching exercises can help prevent painful spasticity and shortening (contracture) of muscles. Physical therapists can recommend exercises that provide these benefits without overworking muscles. Occupational therapists can suggest devices such as ramps, braces, walkers, and wheelchairs that help individuals conserve energy and remain mobile.
People with ALS who have difficulty speaking may benefit from working with a speech therapist. These health professionals can teach individuals adaptive strategies such as techniques to help them speak louder and more clearly. As ALS progresses, speech therapists can help people develop ways for responding to yes-or-no questions with their eyes or by other nonverbal means and can recommend aids such as speech synthesizers and computer-based communication systems. These methods and devices help people communicate when they can no longer speak or produce vocal sounds.
NUTRITIONAL SUPPORT
Nutritional support is an important part of the care of people with ALS. Individuals and caregivers can learn from speech therapists and nutritionists how to plan and prepare numerous small meals throughout the day that provide enough calories, fiber, and fluid and how to avoid foods that are difficult to swallow. People may begin using suction devices to remove excess fluids or saliva and prevent choking. When individuals can no longer get enough nourishment from eating, doctors may advise inserting a feeding tube into the stomach. The use of a feeding tube also reduces the risk of choking and pneumonia that can result from inhaling liquids into the lungs. The tube is not painful and does not prevent individuals from eating food orally if they wish.
BREATHING SUPPORT
When the muscles that assist in breathing weaken, use of nocturnal ventilatory assistance (intermittent positive pressure ventilation [IPPV] or bilevel positive airway pressure [BIPAP]) may be used to aid breathing during sleep. Such devices artificially inflate the person's lungs from various external sources that are applied directly to the face or body. Individuals with ALS will have breathing tests on a regular basis to determine when to start non-invasive ventilation (NIV). When muscles are no longer able to maintain normal oxygen and carbon dioxide levels, these devices may be used full-time. The NeuRx Diaphragm Pacing System, which uses implanted electrodes and a battery pack to cause the diaphragm (breathing muscle) to contract, has been approved by the Food and Drug Administration to help certain individuals who have ALS and breathing problems an average benefit of up to 16 months before onset of severe respiratory failure.
Individuals may eventually consider forms of mechanical ventilation (respirators) in which a machine inflates and deflates the lungs. To be effective, this may require a tube that passes from the nose or mouth to the windpipe (trachea) and for long-term use, an operation such as a tracheostomy, in which a plastic breathing tube is inserted directly in the patient's windpipe through an opening in the neck. Patients and their families should consider several factors when deciding whether and when to use one of these options. Ventilation devices differ in their effect on the person's quality of life and in cost. Although ventilation support can ease problems with breathing and prolong survival, it does not affect the progression of ALS. People need to be fully informed about these considerations and the long-term effects of life without movement before they make decisions about ventilation support.
Social workers and home care and hospice nurses help patients, families, and caregivers with the medical, emotional, and financial challenges of coping with ALS, particularly during the final stages of the disease. Respiratory therapists can help caregivers with tasks such as operating and maintaining respirators, and home care nurses are available not only to provide medical care but also to teach caregivers about giving tube feedings and moving patients to avoid painful skin problems and contractures. Home hospice nurses work in consultation with physicians to ensure proper medication and pain control.