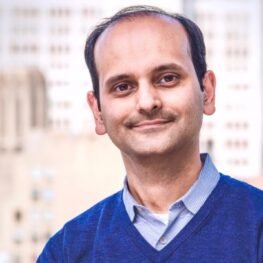 Kuldip Dave, Ph.D. is the vice president for research at the ALS Association. Dr. Dave has experience directing research and drug development programs and managing complex preclinical and clinical programs in the neurodegenerative disease space.
Dr. Dave is a former director of research programs at The Michael J. Fox Foundation for Parkinson's Research, where he developed and implemented the Foundation's ambitious research vision in the biology of Parkinson's. He convened scientists from academe and the pharmaceutical industry to fund promising research opportunities, and he was deeply involved in advancing the study of alpha-synuclein, a protein linked to Parkinson's disease.
Dr. Dave received his undergraduate degree in biology from Rutgers University, and a Ph.D. in pharmacology and physiology from Drexel University College of Medicine. He completed a post-doctoral fellowship at a biotechnology firm and later joined the pharmaceutical company Wyeth, where he was the biology team leader for programs in the Women's Health Department. He later moved to Galleon Pharmaceuticals as a senior research scientist. Dr. Dave lives in Spotswood, New Jersey.