New ALS Gene Discovered: KIF5A
Answer ALS Shared Genomes Helped Lead to New Discovery
NEW ORLEANS – March 22, 2018, ALS researchers have identified a new ALS gene: KIF5A. This important gene discovery will help all researchers understand ALS disease pathways and represents a potential new ALS therapeutic target. Answer ALS is proud to have played a role through the open sharing of over 300 whole genomes from Answer ALS participants.
This was a large collaborative effort involving over 250 researchers, led by John Landers, Ph.D., Professor of Neurology at University of Massachusetts Medical School in Worcester, Mass., and Bryan Traynor, M.D., Ph.D., senior investigator in the Laboratory of Neurogenetics at the National Institute on Aging at the National Institutes of Health (NIH) in Bethesda, M.D. funded largely by the ALS Association. The discovery was published in the March 21 edition of the journal "Neuron".
Researchers from organizations; Project MinE, Genomic Translation for ALS Care, Answer ALS, the Target ALS Postmortem Tissue Core, the New York Genome Center (NYGC) ALS Consortium, the CReATe Consortium, the NIH, and others all joined the collaborative effort to share combined genetic and clinical information needed to make this important discovery.
"This is a great example of how Answer ALS operates in an "open source mode"–freely sharing the data it's collecting from ultimately 1000 patients nationwide—well before the program is over in order to speed up and understanding of what causes ALS and ways to approach the best targeted therapies," said Jeffrey D. Rothstein MD, PhD, Director of the Answer ALS Research program and Director, Robert Packard Center for ALS Research at Johns Hopkins University. "This collaborative discovery of KIF5A gives greater insight into the cellular mechanisms that lead to motor neuron degeneration and identifies important new targets for future gene therapies," said Dr. Traynor.
The Answer ALS mission is to build the most comprehensive clinical, genetic, molecular & biochemical assessment of ALS, while openly sharing the results with the global research community. The Answer ALS consortium has led to the sharing of over 40,000 biological samples, hundreds of shared iPSC lines and has reached an unprecedented 700 participants through it's 8 clinics.
About ALS: ALS is a progressive neurodegenerative disease that affects nerve cells in the brain and the spinal cord. Eventually, people with ALS lose the ability to initiate and control muscle movement, which often leads to total paralysis and death within five years of diagnosis. There is currently no effective treatment or cure.
About Answer ALS: Answer ALS is the single largest & most comprehensive ALS research project in history, producing more ALS data than has ever been amassed, while openly sharing with the global research community. We will use that data to investigate the unique pathways of each variation of ALS & begin to develop the right treatment or cure. We believe that only a large-scale concerted and coordinated effort will make the difference in finding the answers to ALS. Answer ALS is an unprecedented approach to understanding and defeating the disease.
Link to Facebook Post: https://www.facebook.com/notes/answer-als/new-als-gene-discovered-kif5a-answer-als-shared-genomes-helped-lead-to-new-disco/754153694781021/
Link to Open Access Paper: http://www.cell.com/neuron/fulltext/S0896-6273(18)30148-X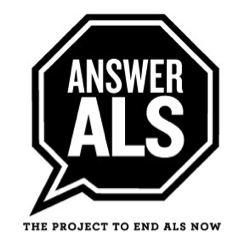 ###